Reviews
Set atop a mountain with a stunning view of Sorrento and Vesuvius, this family-run hotel is full of charm. The rooms are basic, but also modern, spacious and very clean. It's owner, Gian Luigi, is extremely friendly and helpful, ordering us pizza late at night, and helping us book excursions at good rates. Because the hotel is situation so high up, the owner provides transport into town during the day and evening. The journey is only 10 minutes or so by car. Breakfast is simple; sweet pastries, cereal, toast, coffee, which can be enjoyed on the terrace overlooking the beautiful Sorrento. We felt very relaxed and looked after in this great little hotel, full of character.
The best hospitality I've received anywhere in the world. Gianluigi was an absolute legend. Nothing was too much trouble for him, evening shuttles and morning breakfasts overlooking the Bay of Naples and Mt Vesuvius. You can't beat it. Gianluigi made our stay with our 1yo son trouble free. I would highly recommend staying here.
Es un lugar hermoso, con una vista increible. Gianluigi fue muy amable y atento, dispuesto a ayudarnos en lo que necesitàramos. Recomendamos mucho este lugar!!
This Casa is a hidden gem!! The view is spectacular and Gianluigi, the host, is incredibly kind and helpful. The breakfast is excellent and the room was very clean.
The best experience Ever!!!!!!!, Gianluigi ( The landlord ) is very proactiv and nice, we will definetely Recommend him and His paradise
Such a beautiful place to stay! Gianluigi is the best host, he'd go up and down the hill for pick ups during day and night and would suggest what are the best restaurants and things to do in Sorrento and nearby. The view from the hotel is amazing! The room was big and comfortable and with anything you'll need. Thank you so much!!!
What a gem, family run hotel with a marvellous view and excellent service, Gianluigi really took great care of us, great breakfast, really quiet and peaceful area and ask him about tours we took the amalfi coast and the Capri tour and we enjoyed both of them immensely
The host was fantastic!! The best personal service we've had. Beautiful property. We highly recommend this place.
Espectacular la vista desde el lugar y muy buena dispodision del dueño en todo momento!!!
We recently stayed at this wonderful establishment. The views were stunning and the room was typically Italian, everything you needed clean, great bathroom and the benefit of a fridge too. The owner Gianluigi was the perfect host and his lovely wife and boys were also very welcoming. This was a wonderful change from the run of the mill hotels you normally book in city centres and I am so glad I booked here. The walk down into town was lovely each morning but you will most probably need a lift back which the owner will be more than happy too. Thank you for a lovely stay!!
Meraviglioso!!!
Abbiamo soggiornato in questa struttura, prenotando su Booking, ben consoni di cosa ci aspettava come strada, dato che è indicato che la struttura non è in centro nè tantomeno ci si arriva con un auto di grossa cilindrata. pertanto non ci aspettavamo nulla di diverso da ciò che abbiamo trovato: un posto MAGNIFICO, nella pace totale, nel silenzio, e alla mattina ci svegliavamo con una vista a dir poco MOZZAFIATO su Sorrento e la campagna circostante. per non parlare del Vesuvio! la camera era accogliente, al nostro arrivo c'era la fantastica Teresa che ci ha accolto immediatamente nonostante non fossero le 13 preventivate ma solo le 11 del mattino, e la camera ci è stata consegnata all'istante. il titolare , il FANTASTICO a dir poco Gianluigi era un factotum: si è presentato poco dopo in struttura, e ci ha organizzato TUTTO consigliandoci al meglio per vivere una vacanza da favola. oltretutto il servizio navetta che qualcuno ha definito scadente per noi è stata una cosa super: la sera eravamo stanchi dopo tanto mare e camminare, ed avere lui a prenderci alle 22 era davvero fantastico. non vediamo l'ora di ritornarci!!!!!!
PS. LA COLAZIONE ERA FANTASTICA, E NON E' DA TUTTI SVEGLIARSI E MANGIARE UN SUPERCORNETTO , yogurt e via dicendo con un panorama così . ci siamo sentiti ospiti di amici, non clienti. grazie di tutto.
Consiglio sulle camere: secondo piano vista mare: un sogno!!!!!!!!!!!!!!!!!
Great stay but talk to the owner before you arrive about getting there!!!!!
the information from Booking .com could have been better --a lot better in fact. This Hotel is 800 metres up a hill that taxis will not go up !! we where left stranded with all our luggage at the bottom of the hill. Apparently other similar sites advise to call the hotel who send a shuttle bus to collect. as we where not aware of this or the location we had a major problem. Two 65 year olds with 4 pieces of luggage attempting this climb was no joke it was impossible However the owner found us half way! not able to move another inch! whilst he was driving down. The owner is willing to drive customers up and down whenever they need a lift. If you have a small hire car its also possible to drive up and down. booking . com you need to make all aware before booking. Get it sorted before others have the same problem we did.
The owner and his family make you feel very welcome. The view is amazing. its certainly a great place to stay if you like being on a mountain side away from the hustle and bustle of busy Sorrento. Good rooms with breakfast served on a terrace overlooking the bay of Naples, A wonderful 800 metre walk down the mountain every day to the town was not off putting. As two reasonably fit pensioners we had no problem with the walk.. all in all very good. but read on there is a down side !!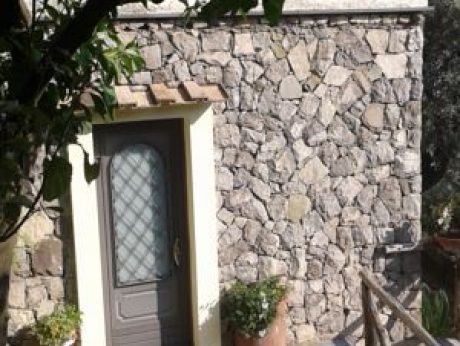 Delightful, family run hotel, beautifully situated in the hills above Sorrento.
The hotel is situated along a narrow road, in the hills above Sorrento, a 20 minute walk from the town centre, which means it is not really feasible to return during the day, although the manager runs a pick-up service at 9pm, 10pm and 11pm each night to take people back. It is a very quiet and peaceful hotel, which may not suit all tastes.
Gianluigi, the manager of the hotel, was extremely accommodating. He helped me with everything I needed during the stay. It is a modest, family run hotel, but clean and tidy and superbly picturesque. Breakfast was a fixed menu (coffee, fruit juice, yoghurt, cereal, croissant, crisp-breads) supplemented each day by a range of home-grown produce (fig, bruschetta with olive oil, omelette).
Ottima sistemazione, colazione abbondante in terrazza. Da tener presente che la strada per arrivare è stretta e ripida; meglio se si arriva con la moto. Il proprietario è comunque a disposizione per venire a prendere gli ospiti giù a Sorrento. La vista vale la pena.
* Mandatory fields.
** I authorize to handle my personal data according to Italian law 196/2003 (art. 23 and follows) Read Privacy Law